Since Dec,01,1998
©1998 By barybary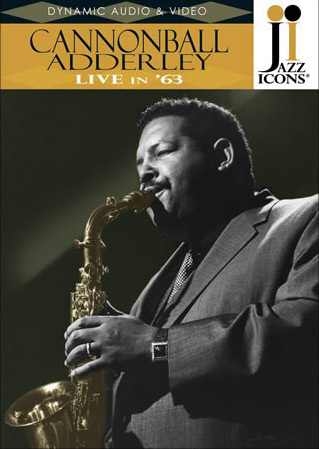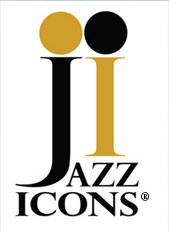 Jazz Icons: Cannonball Adderley boasts two beautifully filmed concerts from one of the most celebrated sextets in jazz history, captured at the top of their game. Cannonball Adderley (alto sax), Nat Adderley (cornet) and the masterful Yusef Lateef (tenor sax, flute, oboe), provide a massive three-horn frontline attack, while the stellar rhythm section featuring a pre-Weather Report Joe Zawinul (piano), Sam Jones (bass) and Louis Hayes (drums) fuel the songs with a deep infectious swing. Quincy Jones' "Jessica's Day" leaps from the gate with a huge "big band" sound that is extraordinary for only six musicians. This DVD is a reminder that Cannonball Adderley was one of the most outstanding and highly respected alto saxophonists in the history of jazz, a blues-based jazzman who could play anything in superb fashion.
Live in Lugano - Switzerland 03/24/1963

Live in Baden-Baden- Germany 3/21/1963
---
Cannonball Adderley in TOKYO '63
Toshiba/EMI #L080-1099 Japanese LaserDisc, NTSC, CLV

Recorded live at Studio G by TBS TV on July 7, 1963
The program ; Jessica's Birthday , Brother John , I Can't Get Started , Work Song , Scotch & Water , Tengo Tango , Trouble in Mind , Jive Samba.
Vocalist Toni Harper does two tunes with the rhythm section :
You and the Night & One Note Samba .
(53'mm)
same personnel as "Nippon Soul"
Play "Jessica's Birthday" from this video tape ( 3:06)
---
The Cannonball Adderley Sextet part I
recorded 12 May 1964 at BBC Television Theatre (JAZZ 625 Tv Show )
The program ; 1)Work Song 2) Song My lady Sing 3) Poor Butterfly 4) Jive Samba 5) Unit Seven
same personnel as "Fiddler on The Roof"
---
The Cannonball Adderley Sextet part II
recorded 12 May 1964 at BBC Television Theatre (JAZZ 625 Tv Show )
The programm ; 1)The Weaver 2)Bohemia After Dark 3) Come Sunday 4)Sweet Georgia Bright 5) Unit Seven
same personnel as "Fiddler on The Roof"
---
JAZZ SCENE USA'S broadcast over nationally sydicated television in 1962 was cause for joy among jazz fans, and acclaimed at the time by most critics as the finest program of its kind. The brainchild of life-long jazz devotee Steve allen, the series showcases many of the very best California-based jazz performers, not to mention rare TV appearances by outstanding national acts atmosphere created by hipster host, singer Oscar Brown Jr. Uncompromising in its use of imaginative camera angles, the visual style is on a par with the creativity of the music. Never available before, these shows are jazz time capsules to treasure from America's golden age of televised jazz.
the Program ; 1) Jessica's Birthday 2) Primitivo 3) Jive Samba 4) Work Song
Same personnel as "Live in Europe 1962"
---
RALPH J. GLEASON'S JAZZ CASUAL was a program created and aired between 1960-1968 on National Educational Television. This video contains a complete original installment of one program, as well as an original Rhino produced short on the life and times of Ralph J. Gleason. It was aired on October 24, 1961
the Program ; 1) Arriving soon 2) Unit Seven 3) Scotch & Water /30 mn /b&w
same personnel as "Sextet in New-York" (without Lateef)

live at the Newport Jazz Festival , Warsaw , Poland October 18 , 1972

live with the Newport Youth Orchestra , Newport , RI ,Thuesay June 30 , 1960
a great Battle of sax ; Julian vs Andy Marsala

C.Adderley Quintet / Newport - USA , June 30 ,1960
Personnel : Julian & Nat Adderley , Barry Harris , Sam Jones and Louis Hayes
Tunes : Del Sasser (7' min)

"The subject is bop" - USA -May 7,1958- NBC-TV Broadcast
Personnel : Julian & Nat Adderley ,Jimmy cleveland (tb),Billy Taylor (p),Mundell Lowe (g),Eddie Safranski (bass) , Ed Thigpen (drums)
Tunes : 52 nd Street , Confirmation , A Night in Tunisia ,Round Midnight , Jeanie (30'min)




Personnel : Julian & Nat Adderley ,Gene Ammons ,Dexter Gordon , Hamptown Hawes , Kenny Clarke , Bob Cranshaw , Kenneth Nash
Tunes : 'Treux Blue (16'min)

available at Jazz Legend.com
On this rare DVD , Julian played one Blues with a trio
TV Show Recorded on 1959
---
Playboy After Dark

Show #32 (taped 03-Dec-69)

Show #32 is the sixth episode of the second season of Playboy After Dark, and the thirty-second episode overall


Guests:
--Cannonball Adderly Quintet - "Hamba Nami" & "The Country Preacher"
--Grand Funk Railroad - "Mr. Limousine Driver" and "Please Don`t Worry"
--Tony Randall (actor)
--Lou Rawls - "Dead End Street," "Make the World Go Away" & "My Baby Loves Me"
--Art Metrano (comic magician)

Aired 24-Feb-70, KTLA-5, Los Angeles, Tuesday 9:00pm
---
Other Appearance
I Thank Michael Mee warmly for his Great Help to make this List
Personnel: Nat & Julian Adderley ,Joe Zawinul ,Yusef Lateef ,Sam Jones , Louis Hayes
Short European TV news footage of the Sextet doing Work Song (5'min)
Personnel: Nat & Julian Adderley ,Joe Zawinul ,Yusef Lateef ,Sam Jones , Louis Hayes
Tunes : Dizzy's Business , Primitivo , Falling in Love with love ,Angel Eyes and Jive Samba ( 30 'min)
IN PARIS Cannonball JATP 1960

Cannonball And Clint Eastwood
PLAY MISTY FOR ME

BATTLE HYMN
Kung- Fu TV Serie
#55 (#166267) "BATTLE HYMN"
Teleplay By: Herman Miller (also 1-3) Story By: D. C. Fontana*2*
Directed By:: Barry Crane (also #44)
First Broadcast: FEBRUARY 8, 1975 (SATURDAY)
Guest Stars: Jose Feliciano, Beverly Garland, Joe Maross, John Bennett Perry Special Guest Star: Julian "Cannonball" Adderly
While chasing Caine for the reward, a man falls from his horse and is killed. The useless death leads Caine to shaving his head. Then he undertakes to return the dead man's belongings including, it turns out, a treasure map to the man's wife in Sovalo. On the way he runs into a pair of traveling musicians who are going the same way.
Lines:

"'Master, as I walk these roads, are there none I may call on for help when I need help?' - Caine 'None.' - Po 'Would this not be useful?' - Caine 'To those who would destroy us. In the past when we have relied on our great teachers to lead us our enemies in high and low places could deal us a mortal blow by simply lopping off our heads. Now in our oneness, we are not like a great beast which may be destroyed by a single well planned strike to the brain. Rather, we are like an ocean of many waves or a field of flowers. Though one or more be uprooted, the others still live with a life of their own.' - Master Po 'As a wave upon this ocean, a single flower in a field of many, what will the people ask of me?' - Caine 'To lead them against their enemies: the despots, the tyrants - wickedness, iniquities, ignorance, persecution, superstition, dishonor.'" - Master Po

"I have no money." - Caine

"'May I ask, Master, when I leave the temple, what will be expected of me?' - Caine 'To walk the roads of the land and use what you have learned for the needs and benefits of the people.' - Master Po 'Will I always know when to act and when to stand off?' - Caine 'That which you do not know, the doing will quickly teach you.'" - Master Po

"This cousin of yours...I would very much like to meet him." - Caine, offering to take a blind man to his cousin

"I have no pockets." - Caine

"I am telling the truth." - Caine, when accused of lying

"Body and mind are one...What else could a man seek except this unity?' - Caine, when Master Po asks him about the years of rigor and discipline 'As a wise farmer puts back into the land at least as much as he has taken, so soon must you give back to others what you have taken for yourself.' - Master Po 'I am ready.' - Caine 'You are ready...Ready, indeed.'" - Master Po, after Caine beats him in a match

Information: The flashbacks in this episode seem to be just before Caine takes the final tests and leaves the temple.
When leaving a horse he has lead for a couple of days, Caine says good-bye (with gestures).
During the opening scene for this episode, Caine shaves his head (which Carradine did for "Besieged" so this scene was filmed before "Besieged" was shot though the production number doesn't reflect that).
A new flute is made for Caine in this episode.