"Stras Fell on Alabama"
Cannonball Adderley Alto Sax, Joe Zawinul Piano, Sam Jones Bass, Roy McCurdy Drums
"The Little Boy with The Sad Eyes, Midnight Mood,Fiddle on the Roof"
Cannonball Adderley Alto Sax, Nat Adderley Cornet, Joe Zawinul Piano, Sam Jones Bass, Roy McCurdy Drums
"Work Song, The Song My Lady Sing, Unit Seven"
Cannonball Adderley Alto Sax, Nat Adderley Cornet, Charles Lloyd Tenor Sax, Joe Zawinul Piano, Sam Jones Bass, Louis Hayes Drums
In the CD inlay as the recording date is mentioned: last week of December 1967 / first week of January 1968. However Charles Lloyd left Cannonball Adderley in 1965 and never performed with him again.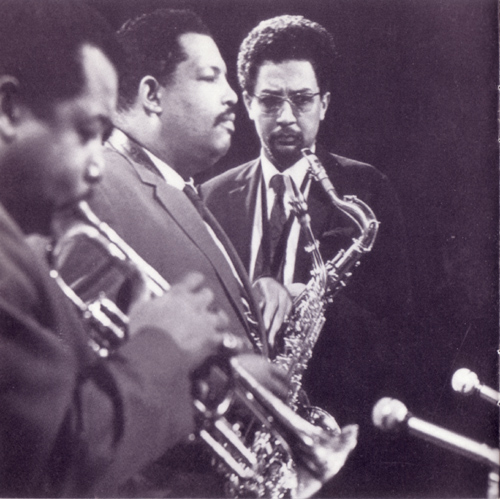 There is a tradition of live azz on the radio in New York that goes bock mare than fifty years. From the big band remotes of the 30s through Symphony Sid's broadcasts from Birdland in the 40s and 50s up to today's American Jazz Radio Festival, heard over WBGO/FM, there is always some live jazz somewhere on the New York radio dial.
In the late sixties, jazz disc jockey Alan Grant did a series of live broadcasts from the legendary Half Note. The club was owned and operated by the Canterino family and was the kind of place musicians loved to play. Whoever was appearing at the club that week would do Grant's live remote an Monday night. Fortunately, he taped many of his broadcasts and saved some incredible music, including these great performances by Cannonball Adderley, from permanent exile into the ether.
The bulk of the music on this record comes from two separate broadcasts. One of the shows occurred in the last week of 1967 and the other is from the first week in 1968. There are performances by two of Cannon's best groups, the Quintet (Sam Jones, Louis Hayes, Cannonball Adderley, Nat Adderley, Joe Zawinul) and the Sextet (Roy McCurdy, Charles Lloyd, Joe Zawinul, Sam Jones, Cannonball Adderley, Nat Adderley). The montage at the end of the record is from Todd Barkan's club, Keystone Korner, in San Francisco. Both of these clubs are gone now, but they were in their day, home to some of the best jazz ever.
Had he just been the consummate saxophonist that he was, it would have been a major accomplishment. But Cannon was more. He was an entertainer, raconteur, political animal, composer, talent scout, teacher and pupil. He was exceptionally bright and witty and had a deceptively even facade, on and off stage, that belied his complexity.
As fortunate as Night Records has been in finding this music, we're equally excited about having access to a series of interviews with Cannonball done by Chicago writer, Judy Smith. Smith is in the process of writing a biography of Cannon and was kind enough to allow us to use excerpts from those interviews as part of these notes. Hopefully, through the words of his friends and family, you'll get a broader picture of an uncommomly gifted artist. Here he is remembered by his fellow musicians, and especially by his immediate family - his brother Nat, Nat's wife Anne, and Cannon's wife Olga.

Nat Adderley
One of the things, especially with Cannon, one of the things that was against us was that we came from what can be described as a middle class family. We were not poor, and we did not crawl up out of the ghetto, or puIl ourselves up by the bootstraps. Our parents were both college graduates, both were teachers, which is an honorable profession although it's not a very rich one. And we came to New York, both with college degrees, at a time when most people couldn't even read music. That didn't sit well with some critics. For a long time we had trouble with acceptance because we were not drug-crazed people who got screwed up and did crazy things. We were very normal. We didn't came to New York to join that scene, so it set us apart. We worked instinctively together. Having grown up playing together, in many ways we were one as performers. We could almost anticipate the phrasing and harmonies of the other. It was a sad day for us when our band broke up in 1956. We always intended to get it back together. Although Cannon was honored to play with Miles Davis and John Coltrane in that landmark band, he never lost sight of his goal to reform the quintet and record his own material.
Although our mother's religious roots were more deeply southers, we were raised in the religion of our father, whose family brought their Anglican (Episcopalian) religion with them from the British Bahamas. As a result, we did not grow up with the intensely soulful, gospel-oriented music one might think from listening to our recordings. The music of the Anglican church tends to be highly stylized, formal. We did walk past juke joints on our way to school, and we could hear T.Bone Walker, B B King, and Eddie "Cleanhead" Vinson on the box. Jackie Byard was stationed in Florida. He and Trummy Young took us to a juke joint where we heard the music of Bird and Dizzy. We were blown away. This was the forties, and be-bop was so hot and innovative, it was blowing all the musicians away. Also we lived across the street from the Tabernacle Baptist Church, and were fascinated by the gospel rocking that came from that church, especially compared to our awn. And at home we listened to music in a more legitimate vein, Paul Robeson and Marian Anderson.

Anne Adderley
Cannonball was like my mentor, in a sense, and yet he was like a child of mine in another sense. Cannon would come in and give me his money to manage better than Nat did. I'd give him an allowance and he'd come in and borrow money all the time. He was always needing five dollars. I don't know how we would have made it without Cannonball. He loved Nat so much and he always took care of him like his little brother, and I was his little sister. And yet like I say, Cannonball was a big pussycat himself, a big baby.

Olga Adderley
He was disciplined as an artist. I think that Julian had a certain overview. I don't think he was disciplined about money, or as careful in those areas, because I don't think they meant as much to him. He wasn't disciplined about his appetite. But I also think that Julian may have thought that there was no point in being disciplined because of his health problems. I think that Julian was determined fo have as much of life as possible. He had on-going dental problems, and everytime Julian had to go through a change in his embouchure and adjust his playing, it really messed up his mind. Because his identity, his concept of self, was tied up in what he did. He was vulnerable too and I didn't want anyone messing with him. Under all of the words, and under all of the assurances, under all of the competence, in some areas he had a vulnerability that he didn't want anyone to stomp on.
He wasn't threatened at all having another sax player on the stand. I can remember Julian coming home during that period (63 to 68) and saying how wonderful things were with the band. Julian thought about music, but he didn't practice at home. He'd write music at home and we listened to music at home and one of the things that I used to see was that he'd get up in the middle of the night. I could see that he roamed or that he had gone to his desk and worked on something. But he told me that they did their practice in the clubs and on the stand. That he thought it . Early on they did a concert at Carnegie Hall and they asked him to play solo on an orchestrated number, "Somewhere" from West Side Story. And Julian didn't practice and he came home and knew that he had to do that, and he thought and thought it. It was one of the most wonderful things I ever heard him do. And eventually, he recorded it, but the first time, Julian didn't rehearse. He came home and thought it, thought about the music.
I didn't listen to the radio far two years after his death. After he died it was so painful to turn on the radio and hear him by accident. I just totally did not listen to the jazz or pop stations for two years. And I think that when he'd been dead a couple of years, "Big Man" came out and that was all right. Then I could hear the music again without freaking out.

Yusef Lateef
There was an affection between the Adderley brothers that was beautiful to see. it would warm your heart. They respected and cared for each other so much. It was joyous to watch them, to listen to them talk to each other, to see them look at each other. And Cannonball extened that warmth to me and those others in the band. He was a wonderful human being as well an artist. Cannonball told me he was teaching school in Fort Lauderdale, Florida at the time he heard about Charlie Parker's demise. At that moment he said to himself, "Well, now I can go to New York." It was within months after Bird died that he went to New York.
Roy McCurdy
We were working a lot, we were travelling by car then, we weren't flying. It wos really close knit. Everybody loved each other. Like a family, friends, we used to fight like a family, we did everything. We travelled in these two station wagons across the country, hack and forth. I miss the band, I do. I miss Cannon, I miss the fun that we all had all the time. I miss everything that was going on. Spontaneity! When we went on the stand with Cannon we never knew what we were going to play. We'd just go up look at the audience, he could tell right away what they would love and what they wouldn't like and things like that, and we hit from there. And usually, 90% of the time it was right on the money.

Joe Zawinul
He always had a cigarette between his fingers but he played so fast and powerful and so great.. .and I never heard him stumble. And then he had this gift to talk to the people in a very nonchalant and yet informative way about many things. We used to kill people; the band was really on FIRE !

Nancy Wilson
Julian described his music better than anyone I have ever known. He mode you impatient to hear the music because he described it so beautifully. His concept of the music coupled with his command of the English language made people understand what was going on musically.

Phil Woods (describing the first time Cannonball played in New York)
We were all Bird's children, I guess. Jackie McLean come to me one night. He says, "Come with me." He was working the Cafe Bohemia. He was the opening act for Oscar Pettiford's big band. And he said, "Come over and check this out ". I walked in and it was Cannonball's first night in town. It's the night he sat in. And I remember Jackie and I were in the back listening to this son of a bitch play the saxophone like no human being had played it before. He was superb. And I remember, I looked at Jackie and Jackie looked at me, and at the same time we both said, "Oh shit !"
These performances by Cannon were recorded in the last week of 1967 and the first week of 1968 by Alan Grant at the old Half Note in New York City His vision in recording and preserving this music and his kindness in bringing it to our attention is much appreciated. We'd also like to thank the Canterino family, who owned and operated the Half Note, for their cooperation in the release of this material. Finally, a special thanks to Michael Cuscuna and Bruce Lundvall of blue Note Records and Bob Young of Capitol Records, for their help in securing the clearances necessary for the release of this material. Cannon was under contract to Capitol at the time of these recordings.